29 Aug

Gisela's story – Living in a house undergoing major renovations

We asked Gisela if she would write something about her experience of transforming her house in Beira Baixa. We're very grateful for her time, and proud as peacocks of what she says. Finding dead owls in the fireplace might not be the most promising beginning, but we're delighted that it's ended with such a lovely new home for her.

As a young couple, we left Africa in search of better work opportunities abroad. We spent thirty years living and working in Germany, the US, and New Zealand, raising our children in that far away South Pacific paradise. After our children left home, we decided to find a new challenge, sold our belongings, and spent a few years travelling.

While visiting a friend in rural Portugal, we were immediately taken by the peaceful charm of the Beira Baixa area, which we discovered would provide most of the aspects we were looking for when we were ready to retire, i.e. abundant water and fertile land to grow fruit and vegetables, a dry summer to prevent creaky bones, and a rural lifestyle with minimal tourism. This prompted us to go house hunting. After many miles in search of the perfect house – and realizing there was no such thing – we finally settled for a rather neglected dwelling, which was too small and had various structural problems, unfinished rooms, a smelly "bodega", single-glazed windows, cracked and mould-covered walls, and dead owls in the fireplace.

When we viewed the property, we only saw the expansive views from the balcony and failed to realise that the house had no lounge and that the garage was too small to fit our car. But having discovered that any house we were going to purchase would have to be modified, we nevertheless decided that this was the house for us and that we would redo it until it was right.

Although we had been led to believe that it would be easy to find a builder locally, we struggled finding one who was keen on our renovation project and do it within our budget and time schedule. Not being able to communicate in Portuguese, was another problem, as we weren't able to convey our ideas. Thus, we ended up searching the Web for a building company we could talk to and came across Silver Coast Construction. Not only did they speak English, they also specialised in renovation work.

We spoke about pricing, negotiated times, drew up a contract, and at the beginning of April 2017, Silver Coast Construction set to work, with a committed crew tackling what they had determined was going to be a two-month project. And, lo and behold, exactly two months later, they were done.

The tight schedule meant no time could be wasted. Renovation work always holds some surprises in store that require rethinking and expert advice, and each day decisions had to be made about adjustments and changes that were not included in the plans. But an experienced project manager made all of this less daunting. We were also very fortunate that the supply of all materials went smoothly and a dry spring provided perfect working conditions.

Silver Coast Construction proved to be the kind of building company that actually put themselves into their client's shoes, listened to suggestions and concerns, and worked toward coming up with solutions that fit the budget yet were never make-shift.

Very importantly, all structural work was carried out in a professional manner. The same goes for painting and electrical and plumbing work, for adding windows and doors, for tearing down and building new walls, and fixing the roof. None of the work had to be outsourced, windows and doors were supplied by a company Silver Coast has a longstanding relationship with, and all materials were supplied on schedule.

Although it is quite a challenge to live in a house while it is undergoing major renovations, it is very important to be on site to answer questions that require quick decisions. And with Silver Coast Construction operating the way they did, there were very few problems. They also cleaned up after their work every evening, which is not common in the building trade, and this made even a project in progress liveable.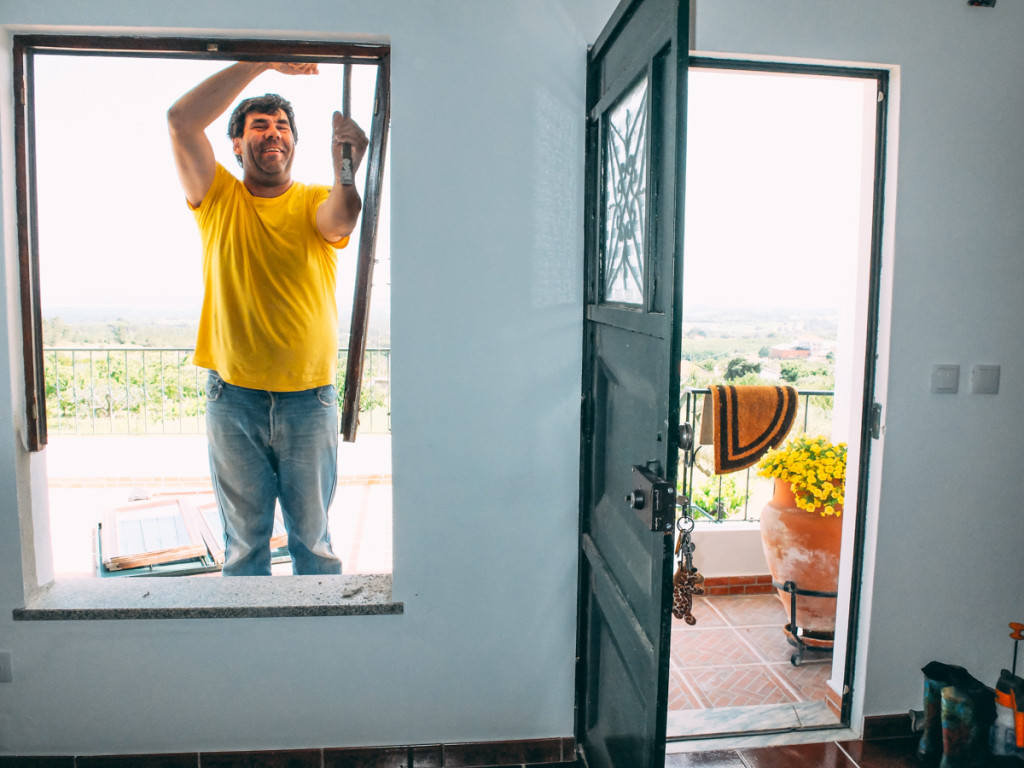 After two months of dust and dirt, we are very happy with our "new" home, which is now actually a house and a lot more than the building we bought two years ago. The smelly "bodega" has become a lovely guest bedroom, there is another bedroom and a bathroom downstairs, what used to be a pig-sty has become a large workshop, and the garage is finally a garage that will fit a car and not just a large lawnmower. We are absolutely thrilled with our upstairs lounge conversion that provides us with a living room with large windows offering an amazing panoramic view all the way to Spain.
So, would I recommend Silver Coast Construction? Yes, I would, because working with them was an all-round pleasant experience. In fact, we are considering getting them back in to do more work.
Gisela Hecker
15 June 2017
At Silver Coast Construction we do always take care to put ourselves into our clients' shoes. And when the client is living in the house while the work is going on we do take special care to be considerate. So we're very very happy that despite the dust and dirt it turned out to be "an all-round pleasant experience" for her. And we can agree that the panoramic views really are stunning!